Finite Element Analysis Results of a Semiconductor Chamber
The chamber analysis below is for a chamber in excess of 700 C. The dominant heat transfer mechanism is radiation. There are channels with cooling water, and o-rings to seal the vacuum chamber. The cooling fluid must be kept from excessing heat, otherwise it will over pressurize the chamber and other problems will occur in the cooling loop. The o-rings are elastomer, and can't be subjected to excessive heat. The analysis must show how hot certain parts of the chamber become.
The chamber
Figure 1: Chamber blow out.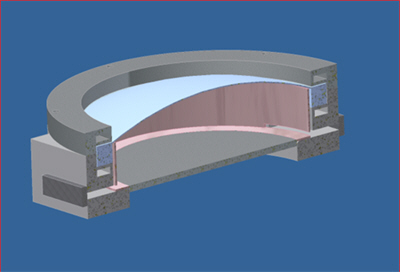 Figure 2: Chamber section view.
FEA as virtual laboratory
FEA analysis results of a semiconductor chamber before cooling channel revision. The analysis showed temperatures are too high for the material to withstand the conditions. A redesign and subsequent FEA analysis showed that the thermal objectives could be achieved.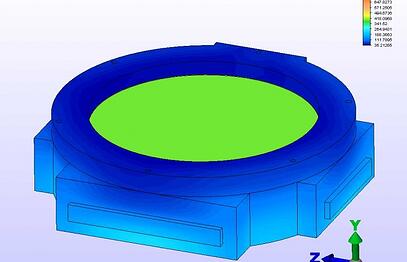 Figure 3: Chamber Thermal Results